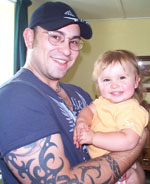 (CARL WITH HIS APPRENTICE)
Testimonials
"Carl's painting is absolutely fantastic, it has brought real "life" to our figures. I would highly recommend his service to ALL wargamers, truly excellent work."
Al Baird

-=-=-=-=-=-=-=-=-=-=-=-=-=-
Just wanted to say thanks for all the superb painted figs I have received from you. I have a fairly large collection, your certainly stand out as among the best. The attention to detail and overallaesthetic appeal of the figs is truly awesome. All aspects of your work is superior, from the colours employed, technique, attention to historiacl detail, and basing, to great care in packaging. I'm sure to get "oohs and aahs" from my gaming buddies when using your figs. My only complaint being that they are of such high quality that I had a hard time letting others use them.
It has been a very pleasant experience doing business with you.

Thanks Mitch, USA
-=-=-=-=-=-=-=-=-=-=-=-=-=-
As regards quality and service I can offer nothing but praise, the quality of the work is absolutely excellent as I have said before you are a true professional in what you do and that's keeps me coming back, I really look forward to seeing the finished product each time.

The service you also offer is excellent with great communications as regards specifics and authenticity of uniforms and insignia. And finally delivery of the finished product back is fast and excellently packaged.

Many Thanks Paul, UK
-=-=-=-=-=-=-=-=-=-=-=-=-=-
"I rely on Raven Painting for the highest artistic quality and consistent professionalism. Projects are completed on-time, and the painting on each miniature is always unique, gorgeous, and historically accurate."

Steve Dondershine, USA
WORK SHED PICTURES :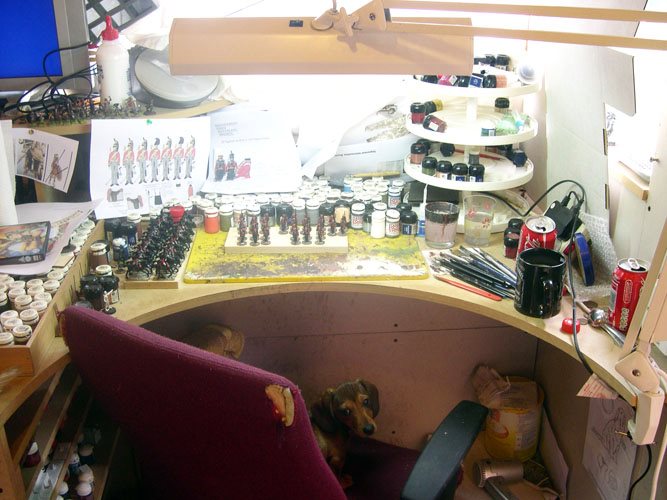 A few shots of orders on the bench.
To view more take a look at my commissions page.