SAMAURI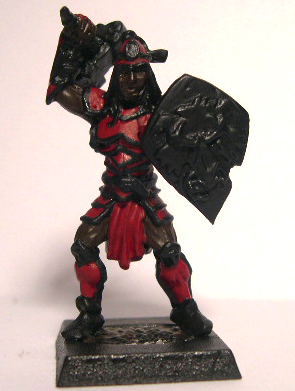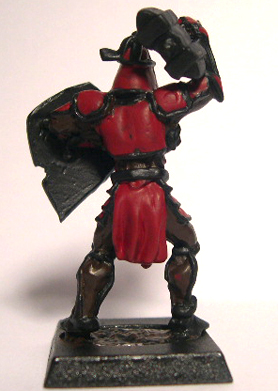 AFTER UNDERCOATING THE FIGURE CHAOS BLACK I STARTED THE BASE COATS:
SKIN-SCORCHED BROWN
ARMOUR- RED GORE (2 COATS)
THEN PICKED OUT THE BLACK LINING AROUNG THE ARMOUR AND COATED ALL METAL WORK WITH CHAOS BLACK.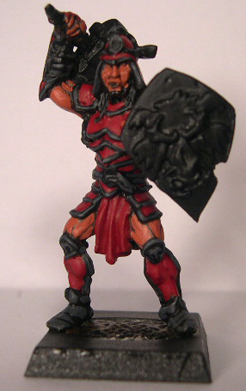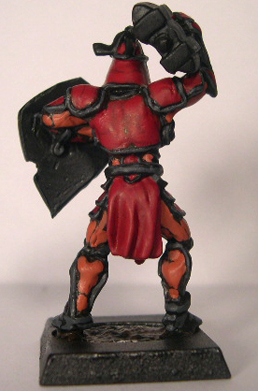 SKIN -TANNED FLESH
ARMOUR- ABOUT 80 % RED GORE 20 % BLEACHED BONE ( START WITH THE BLEACHED BONE AND ADD THE RED WITH A LITTLE WATER TO KEEP IT FLUID ) I ALSO USED SLATE GREY A TO LINE THE ARMOUR.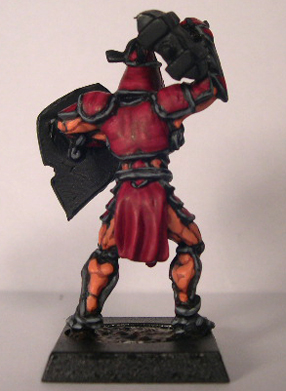 SKIN- DWARF FLESH
ARMOUR- ADD A LITTLE MORE BLEACHED BONE TO THE MIX WITH A LITTLE WATER FOR THE FINAL HIGHLIGHT. SLATE GREY B FOR THE HIGHLIGHTS ON THE BLACK LINING ( FINAL HIGHLIGHT ), BOOTS AND BELT. THEN HIGHLIGHT BOOTS AND BELT WITH C.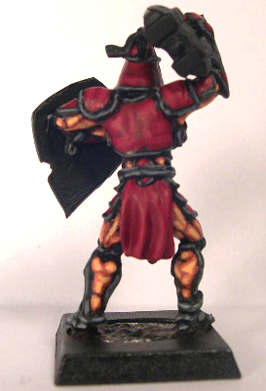 SKIN- ELF FLESH FINAL HIGHLIGHT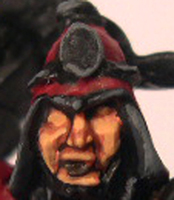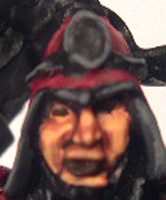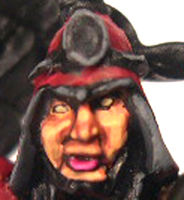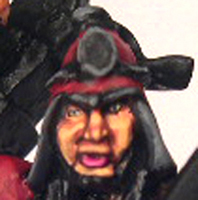 I STARTED THE EYES AND BOTTOM LIP WITH SCORCHED BROWN.
EYES- BLEACHED BONE WITH REGAL BLUE AS THE PUPIL.
FOR THE BOTTOM LIP I USED SHADOW PINK A-B-C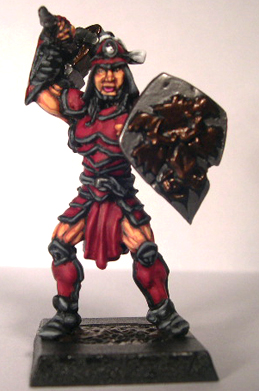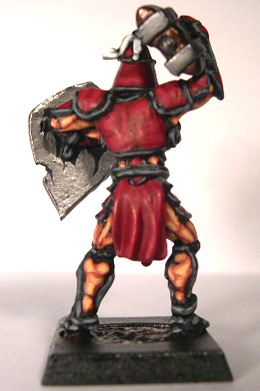 METAL WORK-BOLT GUN METAL. TINBITZ FOR THE SHIELD EMBLEM AND THE HAMMER HEAD.
WHITE SCARF-ARCTIC GREY A-B-WHITE.
YING AND YANG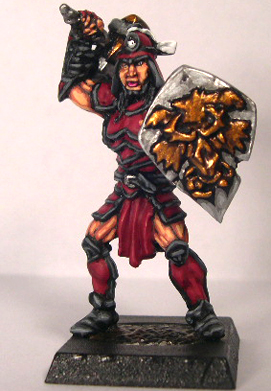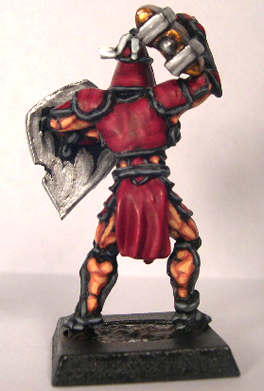 METAL WORK- CHAINMAIL WITH MITHRIL SILVER AS THE FINAL HIGHLIGHT. SHIELD EMBLEM AND THE CLUB HEAD- BRAZEN BRASS WITH SHINING GOLD AS THE FINAL HIGHLIGHT.
I THEN VARNISHED THE FIGURE FIRST USING GLOSS ( TO PROTECT IT )AND FINALLY DALER-ROWNEY SOLUBLE MATT VARNISH TO GIVE IT A NICE FLAT FINISH.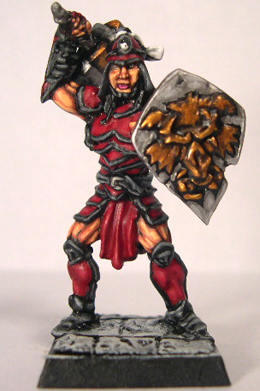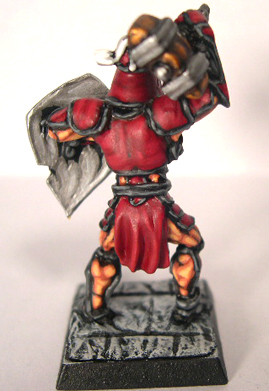 FOR THE BASE I USED MODELLING CLAY AND SHAPED IT TO LOOK LIKE DAMAGED DUNGEON FLAGSTONES. PAINTED THE WHOLE BASE CHAOS BLACK AND DRY BRUSHED IT CODEX GREY-FORTRESS GREY AND A FINAL HIGHLIGHT OF ARCTIC GREY B.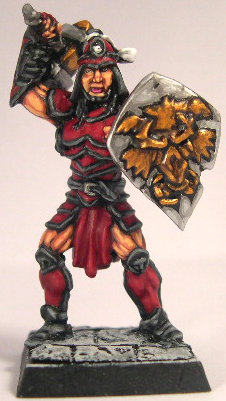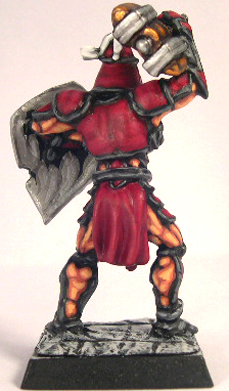 FINSHED !