NOBLE KNIGHT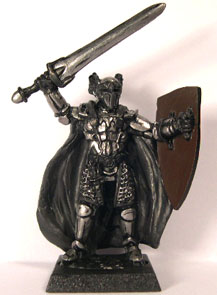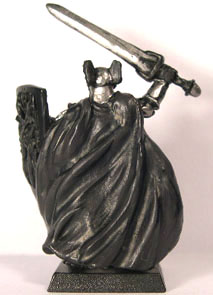 AFTER UNDERCOATING THE FIGURE CHAOS BLACK I STARTED THE BASE COATS:
ALL METAL WORK - BOLT GUN METAL
CLOAK AND BLACK AREAS - BLACK\SLATE GREY A MIX.
BACK OF SHIELD - SCORCHED BROWN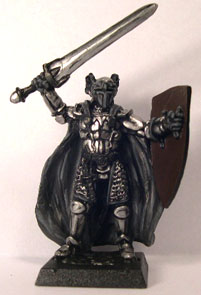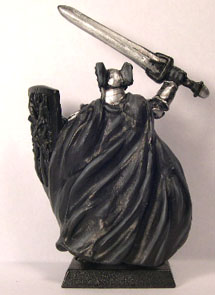 METAL WORK - CHAINMAIL
CLOAK AND BLACK AREAS - WATERED DOWN SLATE GERY A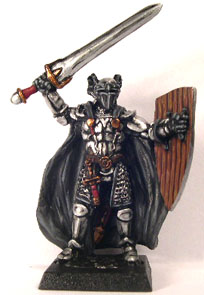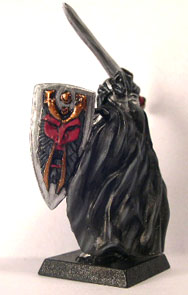 METAL WORK- MITHRIL SILVER FINAL HIGHLIGHT
GOLD- TIN BITZ- BRAZEN BRASS-
SWORD HILT, DAGGER AND SHIELD FACE- RED GORE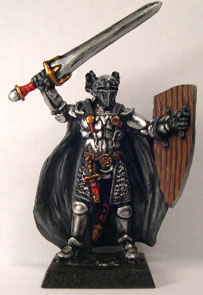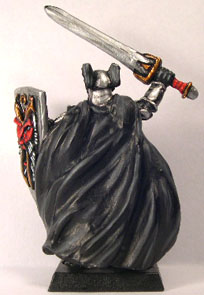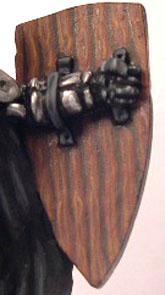 RED- BLOOD RED- SCARLET B FINAL HIGHLIGHT
BEARD ON SHIELD- SLATE A-B-C WHITE FINAL HIGHLIGHT
WOODEN SIDE- DUSK FLESH A-B-C
I THEN VARNISHED THE FIGURE FIRST USING GLOSS ( TO PROTECT IT )AND FINALLY DALER-ROWNEY SOLUBLE MATT VARNISH TO GIVE IT A NICE FLAT FINISH.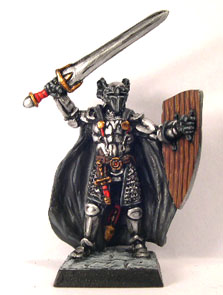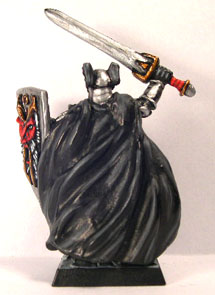 FOR THE BASE I USED MODELLING CLAY AND SHAPED IT TO LOOK LIKE DAMAGED DUNGEON FLAGSTONES. PAINTED THE WHOLE BASE CHAOS BLACK AND DRY BRUSHED IT CODEX GREY-FORTRESS GREY AND A FINAL HIGHLIGHT OF ARCTIC GREY B.